[終了しました]秋の京都ゆぶねTOPEAK行楽弁当エンデューロ
2016.06.15 Wednesday | by
846

秋の 京都ゆぶね 行楽弁当 エンデューロ
and TOPEAK MTB Carnival 2016
地元の秋の味覚満載行楽弁当付きイベントです。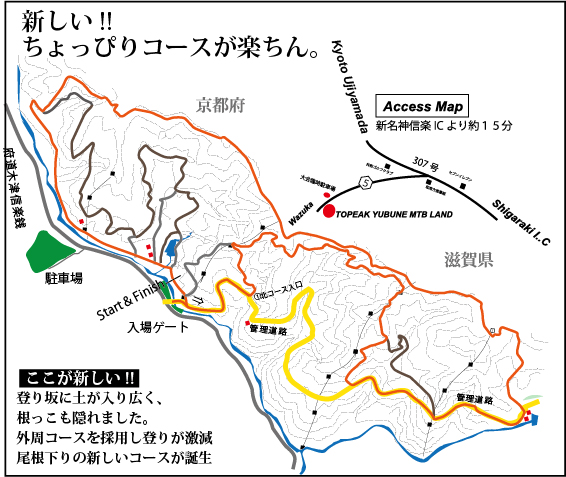 今回より参加費がお安くなりました。
募集要項はコチラ


エントリーはコチラ



■表賞とカテゴリー 
※全カテゴリー1位〜3位にジョントマック白馬岩岳復刻メダルを授与。優勝チームにトピー
クパラソル。キンダーレース:全員に参加賞(当日無料参加)/カテゴリーは申込用紙を参照。
特別賞としてTOPEAKエンジョイチーム賞(チームワークが優れている)
福寿園ハッピーファミリー賞(仲良し家族)
■大会スケジュール
7:30 ゲートオープン・・・ 駐車場は道路を挟んだ反対側にあります。
7:30 ピットイン・・・係員の指示でピットにお入りください(車は入れません)。
    ※大きなテントは避けて譲り合ってご利用ください。
7:30 レジストレーションオープン
8:00 試走開始・・・コースには分岐箇所がありますので要チェック!!
8:50 キンダーレース(参加無料)・・・三輪車、補助車、子ども用乗り物、
ランニング…何でもOKです(アスファルト200M)。
9:00 レジストレーションクローズ・試走完了
9:20 MTBコースオープニング&大会開会式
9:45 ファーストライダー招集・・・第1走者コースイン。
10:00 4時間エンデューロ・スタート
12:00 和束「茶どころ行楽弁当」をお渡しします。
14:00 4時間エンデューロ・ゴール
15:00 表彰式・小判探し・・・誰でも参加OK
Autumn Yubune Enduro in Kyoto with Picnic Lunch
and TOPEAK MTB Carnival 2016
Event Date: September 18, 2016 (Sunday)
Application period: from June 20 to September 10
Venue: Wazuka-cho Yabuta Yubune Wazuka-cho Sagara-gun, Kyoto Tel: 0774-78-3001
Organizer: Yubune MTB Project
■ Sponsored by Wazuka-cho
■ Special sponsor TOPEAK
■ Co-sponsored by Fukujuen Ltd., Marui Ltd and OutdoorSports 846 Cycling Japan
■Limited to the first 130 teams
■New slightly easy course for you to check out!!
We have made a wide entry leading to an upward sloping mount avoiding even hidden roots. It sharply decreases the uphill course with the adoption of a new outer periphery.
Plus a new course for the down path ridge is born!
■ Access: About 15 minutes from the Shin-Meishin Shigaraki IC
■Participation Fees
Elementary school students: JPY2,000.-/ Junior high school students: JPY3,500.- / General Public: JPY5,500.- (with free picnic lunch box set for registered participants, and for supporters and non-participants at JPY1,000.-
On competition day, please pay the parking fee of JPY500.- per day.
We have adopted an easy e-mail method for registering entry in this event, by which applications should please be sent via web site http://main.846.info/In the case of using a mobile phone, please send your application request by mail to entry@846.info, then an example of how to enter will be sent back to you by return mail.
It is also possible to send the application form by post or FAX (0740-22-2256) and you can then pay the participation fees by a bank transfer.
Entry: main.846.info
■ Awards and Categories:
* The John Tomac Hakuba Iwatake reproduced medal for first to third places in all categories.
* Topeak Parasol award to winning team.
* Kids' Race for Preschoolers (free participation on race day). Prize of participation will be offered to all kids.
* TOPEAK team award as a special prize for Excellent Teamwork.
* Fukujuen Happy Family Award (for most close-knit family)
Please refer to the application form with regard to each category.
■ Tournament Schedule
7:30 Gates Open ... Parking located at the opposite side of the road.
7:30 Pit stops ... Please enter the pit according to the attendant's instruction (cars prohibited in the pit area).
*** Please allow a place for other people in the pit by not using a big tent.
7:30 Registration begins
8:00 Trial run starts ... There are some branches sticking out on the course so please watch out !!
8:50 Kinder race on 200M asphalt (Free participation)... Tricycles, auxiliary vehicles, children's vehicles ... OK to ride in any manner even running.
9:00 Registration closes. Trial run stops
9:20 MTB course Opening Ceremony
9:45 First riders called up and enter course
10:00 4 hours Enduro Starts
12:00 Wazuka Tea-growing district Picnic Lunch box provided
14:00 Finish of 4 hours Enduro
15:00 Awards Ceremony and search for oval gold coins ... Open to all!
Yubune MTB Project Tournament Information Page.
■Written Oath for Participation Application:
[Pledge] I duly acknowledge how dangerous MTB is by competing at my own risk, and hereby swear that I shall not pursue compensation for damages or hold the organizers and competition officials or any other third parties responsible against death or injury of my person or of any other person from accidents related to my race participation.
Moreover, I do not seek to be indemnified for any damages to my property or car in the facility grounds, conflict among visitors or competitors, natural disasters, and accident or injury stemming from attacks by insects or wild animals.
In relation to my tournament records, I acknowledge its free use under the authority of the organizer.
During the tournament period I promise to compete with consideration of the environment in accordance with the rules of the organizer, and not make a claim for refund of the participation fee for this tournament under any circumstances.
In any violation of this pledge I agree to follow all instructions of the organizers, including expulsion from the race, demotion, ejection, etc.
■ Participation Application Form for Autumn Yubune Enduro with Picnic Lunch in Kyoto
※ I, as well as all my team members, thoroughly consent to the written oath above so as to perform to the contract as described and to the application of the rules of the convention by hereby affixing my seal on this application form.
Application form should be dropped into a post box or sent by FAX, in which case please pay the participation fee on the spot.
If 846 direct mail is not required to be sent to you, please put a check mark on the check box.
* Participant
Name
(Representative's name)
Seal
Sex: Man/Woman
Birthday (Age): Year/Month/Day
Address
Prefecture
Postal code
Team name
TEL
Mail address
Affiliation
Type of blood
Emergency contact number
* Category
Male (solo)
Women (solo)
* Participants:
Men's Team (2 to 4 persons)
Women's Team (2 to 4 persons)
Co-gender team (2-4 men and women)
mail entry@846.info